New Patients at Radiant Life Chiropractic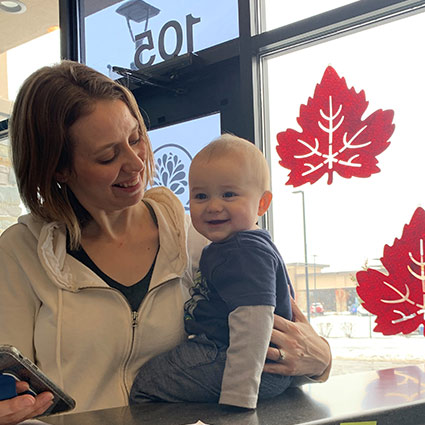 Getting started with care is easy and convenient at Radiant Life Chiropractic. Once you've booked your appointment, we'll email you a link to complete your new patient paperwork online in the convenience of your own home. You don't need to bring anything or wear any special clothing to your appointment—just come as you are, and we'll take good care of you!
Your First Visit
When you walk into our beautiful office, we'll greet you with a warm hello and make sure you feel at home. You'll meet with
Dr. Scott
to discuss your health history, current concerns, and goals.
Then, you'll get a chance to experience all of the state-of-the-art technology that allows us to diagnose the underlying cause of your issues. We'll conduct digital posture screening, CLA INSiGHT® neurological scans, and squat screening, and Dr. Scott will perform an in-depth chiropractic examination. This visit takes about 45 minutes.
Your Second Visit
Before you return, Dr. Scott will study the results of your assessments and create a customized care plan designed to optimize your body's function. At your second visit, he will review all of his findings with you, explaining what's causing your symptoms and how our care may be able to help. He'll lay out his recommendations for care, and if you're ready to begin, you'll receive your first adjustment at this visit. Plan to be with us for about 30 minutes at this appointment.
Paying for Care
We do not accept insurance because we never want your care to be dictated by an insurance company. By maintaining a cash-based practice, we are able to offer you the specific care you need when you need it, with no interference. We accept all major credit cards; you may use your HSA or FSA. We also offer family plans, as well as payment plans.
Our new patient special is just $99 (regularly $150), which includes your first and second visits.
Could You Use a Health Victory?
You deserve to live an abundant, healthy life. Contact us today to book your first appointment!

New Patients at Radiant Life Chiropractic | (920) 455-0020